EditFest Global 2021
This year's EditFest Global event was a big success! Thank you for your participation! Once again it featured
panel conversations, breakout sessisons and networking opportunities
with an array of talented editors from around the world.
Many thanks to all of our incredible and accomplished editors and staff who made this happen.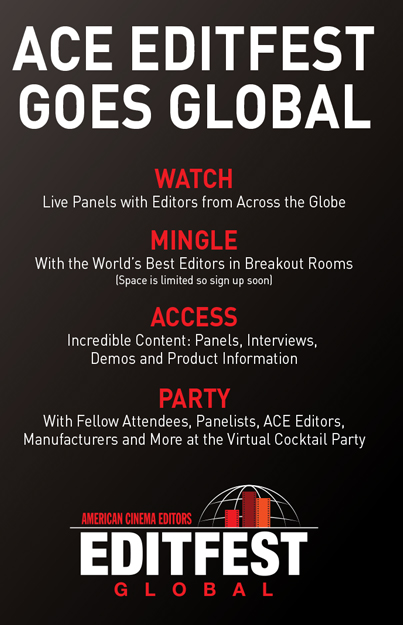 About EditFest
ACE EditFest events began in Los Angeles in 2008, then New York in 2009 and London in 2013. EditFest put editors on stage in lively discussions with attendees. In response to the pandemic and fueled by audience demand, ACE launched EditFestGlobal.com, where editors and attendees can connect virtually. This 2-day event was held on August 28th & 29th, 2021.
EditFest 2021 was a virtual event held on August 28 & 29.
Panels – In-depth discussions with a moderator and featured guest or panel.
Breakout Sessions – Breakout rooms were open to all attendees this year. Join Each was moderated by a special guest Breakout Session editor or accomplished entertainment industry leader.
Become an EFG Contributor