Message From the Board 3rd Qtr 2022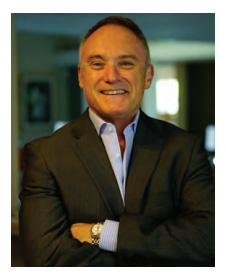 Greetings to ACE editors, and all editors and editing fans from around the world. Welcome to the 2022 Summer Issue of CinemaEditor. Lots of exciting news to report from ACE headquarters.
In April, after a two-year hiatus, ACE returned to Las Vegas for the NAB (National Association of Broadcasters) Show. If you've never been, consider checking it out – it's fascinating. ACE was proud to take the Main Stage and present a behind-thescenes look at DreamWorks Animation's The Bad Guys. Thank you director Pierre Perifel and editor extraordinaire JohnVenzon, ACE, for the extremely informative, very funny and truly entertaining discussion. And thanks go out to Carolyn Giardina for leading the conversation.
On a recent Los Angeles morning, ACE held its first in-person Annual Meeting in two years. The french toast was good but the company was better. It was great to see so many of our members in the flesh. Highlights included discussions about ACE's involvement with TEMPO (the United Nations of editing organizations) and a lovely speech from ACE intern McKenna Cook about what the ACE Internship Program has meant to her and her fellow intern Catherine Goohs (see our coverage of NAB and the Annual Meeting in this issue).
Lots of exciting news from the New York Committee. Chair Joe Krings reports that ACE NY held their first gathering
celebrating the kickoff of the Tribeca Film Festival. They are also in conversations with other NY film festivals about organizing editing panels and Q&As during their runs. Go NY Committee!
The Diversity in Editing MentorshipCommittee is starting its eighth cycle in July and continues to actively support the creative and technical growth of all of the mentees selected. This year we have 21 new mentees and 23 returning! Big thanks go out to the chairs of the committee, the committee members and all the mentors. And the biggest news of all … EditFest returns! In person, livestreamed and virtual! You heard right! This hybrid event will take place Aug. 27-28. Saturday will be in person and streamed live from Walt Disney Studios followed by a virtual program on Sunday. This year's panels include an in-depth discussion about the mysterious art of animation editing entitled "Edit First, Shoot Later," moderated by the always charming Bobbie O'Steen, co-author of the recently-released Making the Cut at Pixar.
And, after the movie topped $1 billion at the box office, we're excited to present and talk with Top Gun: Maverick editor Eddie Hamilton, ACE (who is also featured in this issue of CinemaEditor). There will also be chats and discussions with the editors of some of the hottest streaming shows of the summer. Plus an international panel with editors from around the world. And like our previous two years, we'll have virtual break-out rooms where you can meet and speak with some of today's top editors. If you haven't already – get your tickets now!
Finally, take a peek inside our Summer Issue where you'll find interesting and engaging interviews with editors from some of today's most popular shows. Samuraicutters like Todd Downing, ACE (Russian Doll); Ken Eluto, ACE (Succession); Cindy Mollo, ACE, and Viks Patel (Ozark); Joan Sobel, ACE, Ahmed Hafez, and Cedric Nairn-Smith (Moon Knight); Julie Monroe, ACE, JoAnne Yarrow, ACE, and Matthew Barbato (Only Murders in the Building); as well as the team behindThey Call Me Magic – Derek Doneen, Wes Lipman, Salman Syed, Dirk Westervelt, ACE, Monique Zavistovski, ACE, and Will Znidaric, ACE.
Told you there was a lot of exciting news! Stay out of trouble, keep on cutting and see you at EditFest!
– KEVIN TENT, ACE 
ACE President
Explore Your Favorite Topics