Welcome to the EditFest Global Event Guide
Here you will find all necessary information regarding our virtual event tool Hopin, divided into two basic categories:
How to Login to the event

An introduction to Hopin

Troubleshooting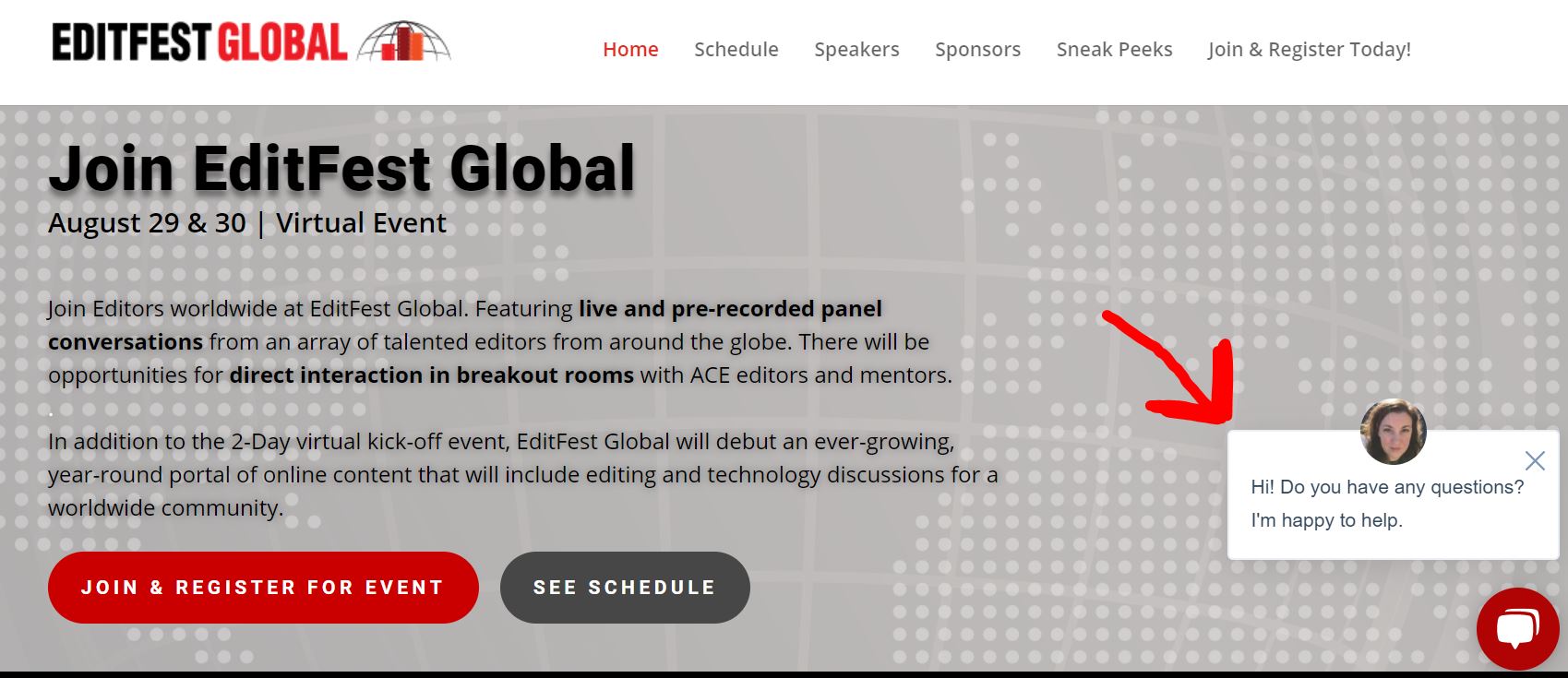 If questions arise DURING the event…
post your questions in the chat area on Hopin (on the right hand side of your screen once logged into the event) we will have support staff monitoring the chat.
or you can visit the "EditFest Help Desk" which is listed as a Session (click on the Session icon on the left hand side of your screen when logged into Hopin) and will be open during the entire event. We will have support staff there ready to assist you.
If you are having technical difficulties logging into the event, you can contact a member of the ACE support staff using the chat box on this website (click on the RED chat bubble in the lower right hand corner of THIS website to initiate chat).
Please make sure first...
that you are using the latest version of

 

Google Chrome

 

or

 

Mozilla Firefox. Please

 

avoid

 

any Brave, Safari, and Microsoft IE or Edge since these browsers lack the modern web technologies support necessary for online events to run in a web browser. While they might work  – they may also not give you the best possible experience. We highly encourage you to attend the event via Chrome or Firefox.
that you sign up and create your profile on HOPIN. Taking care of this BEFORE the event will save you time and ensure that you are ready to attend/participate on Saturday & Sunday.
Optional Tech Note: on rare occasions, third-party extensions can affect the experience blocking some of the Hopin interface elements. If you are having trouble, we also recommend opening the event in Incognito mode (command+Shift+N on macOS or Ctrl+Shift+N on Windows). Most people will not need to do this. but if you are having issues, it may help resolve them.
How is EditFest on Hopin structured?
There are four areas used in the EditFest Global Hopin event:
1. Reception
The Reception area is the welcome page or "lobby" of your event. Here you can quickly find out what's happening at the event currently: the EditFest welcome message, the schedule, sponsors and speakers. In the Reception area you'll find announcements and event updates.
2. Stage
It's a one-to-many interaction area that supports up to 100,000 concurrent viewers. The Stage will be used for the "main hall" parts of the day (welcome, panels, keynotes and farewell).
3. Sessions
The Sessions segment of Hopin will be used for concurrent Breakouts Sessions led by various industry leaders. These will vary in format from shorter presentations, discussions, Q&A's, etc and span a wide array of topics. This is where attendees might ask questions to the speakers on camera. In Sessions, attendees will have more chances to interact via the chat and perhaps even on screen, with Session Leaders. We will be mostly sticking to only the Speaker on camera/screen and it will be at the discretion of the Speakers and their moderators to decide whether to allow attendees on screen. 
Sessions will automatically appear on schedule and automatically hide once their time is up. Attendees can view the list of previous sessions by clicking Show past segments at the Reception area of the event. In sessions with multiple people, you can double-click any screen to enlarge it.
Additionally you will also find the The EditFest Helpdesk in sessions – your main way of reaching our organizing team. If you need assistance contact us here in chat or by Sharing Audio and Video to talk to us directly.
4. Networking
The Networking segment on Hopin is pure engagement and is similar to one-on-one meetings on a FaceTime call. This segment is designed to recreate the "coffee-in-the-lobby" conversations or watercooler chats that are important at an in-person event. The Networking area automates the discovery of new connections. When an attendee participates in the Networking, they are matched with a random attendee and meet/chat for a maximum of 3 minutes.
Attendees can click the Connect button during a call to exchange contact information and after the event the newly made contacts will appear at https://hopin.to/account/connections page of their individual Profile. For more information click here.
How do I get to where I want to go at this kind of event?
Similar to a physical event, the Hopin event experience is self-directed but with wayfinding tools and signs to help people easily get around. Attendees ultimately choose where they want to go.
By default all Hopin segments are open during the entire event. However, Organizers can direct Attendees to the most relevant segment via signposting options:
Event Schedule.

 

The schedule shows attendees what's happening, where they should be, when, and who's speaking.
Live and Now tags.

 

When the Stage is live or Sessions, Networking happen now according to the Schedule, the red LIVE and NOW tags will appear on the left sidepanel, directing the attention of the event attendees.
What's happening now banners.

 

When attendees first land in the Reception area during event hours, there's a large clickable button that hints on

 

What's happening now

 

for all attendees.
Highlighted chat messages sent by Organizers.

 

Chat messages sent by the Organizer are always highlighted to get easily identified by the Attendees.
Pinned chat messages.

 

Any extra information or useful links to related content can be pinned by Organizers to always be visible to Attendees on top of any Stage or Session chat.
Where can I chat and socialize?
There are multiple chat channels in a Hopin event. Each one serves a different purpose.
Event chat

 

— global event chat where all participants can post messages. Here we will post & pin important announcements as well.
Stage chat

 

— chat with a Stage-related discussion all attendees have access to. Feel free to discuss but please follow the instructions provided by the Speakers/Panelists and the EditFest organizing team.
The Helpdesk

 

– your main way of reaching the organizing team. If you need assistance contact us here in chat or by Sharing Audio and Video to talk to us directly.
Session chat

 

— each "Breakout Room" in Sessions has dedicated chat rooms. Attendees who are on or off-camera can chat to interact with people on camera and vice-versa. Feel free to discuss but please follow the instructions provided by the session host, moderators and EditFest organizing team.
Meeting chat

 

— in Networking, a private 1:1 chat channel is available to the participants.
How do I join a discussion with live audio and video?
Sharing Audio and Video is possible in sessions. (Though some session may opt to only have the Speakers on screen.)
Click "Share Audio and Video" in sessions or if you are a session moderator or "Ask to Share Audio and Video"  if you are an attendee.
If you haven't allowed access to your camera or mic in the event, you will be prompted to do so at this time.
Once you see yourself on the main screen, you're live to the audience.
There is a 10 second delay for the stream so please allow Speakers and moderators a few extra seconds to respond to your questions.
I'm having issues, how should I proceed?
First, we recommend for you to skim the Troubleshooting Section at the end of this page.
Make sure you use Google Chrome or Firefox when you log into Hopin.
Refresh the browser and try to join again.
If problem with audio or video – Click "Leave" on the top right of the session panel, and request permission to moderation panel again (click "share audio and video").

If you are in a session, ask the moderator for help in the chat.

If your problem persists, join the Helpdesk Session or if you aren't able to do that, go to EditFestGlobal.com and click on the red ChatBox bubble in the lower right hand corner of your screen to access support staff. 
Can I join a Hopin event from a mobile device?
Yes, you technically can login just like you would login to any website using your Chrome app. 
While you can view the Stage and Sessions and participate on the chats, it is not the easist thing to navigate on a phone/tablet. 
For the best experience please use a laptop or desktop computer with Chrome or Firefox.