Meet Daniela Bond & Alyssa Hance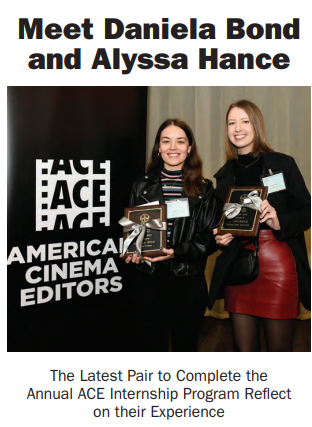 DANIELA BOND
As long as I can remember, I've always loved watching movies. It started with kid appropriate content of course and then gradually moved on to the classics that my mom showed me – great films like Goodfellas and my personal favorite What's Up Doc? I left these films with two questions – the first being why aren't other eighth graders watching these movies?
And the second question was really an intense fascination with how these stories were told. I started researching and found out there was this job where you're a problem solver and a storyteller, and you get to be creative and imaginative on a daily basis. I learned what an editor was, and I never looked back.
Last year, I had the honor of shadowing the incredible Dorian Harris, ACE, Amy Duddleston, ACE, and Amy's assistant, Samuel Bellamy. Watching Samuel tackle everything from sound design to technical problem-solving reinforced this is what I want to do.
I left that experience inspired and determined to apply for the ACE internship. The first day at Tyler's house for the internship orientation, I felt so grateful and yet had no idea what this experience would bring. Over the next month, Alyssa and I met with so many generous editors, assistant editors, apprentices and post PAs who took time out of their busy days to answer all our questions and to reassure us that no question was too small.
The internship was challenging, but I'm glad it was because it helped me gain confidence in my abilities. Shadowing allowed me to see all the moving parts of the editorial process from dailies to online. I learned about workflows for both scripted and unscripted projects, and I gained so much knowledge about what
makes a great assistant editor, and editor. Most of all, I enjoyed getting to know everyone I met and learning what brought them to editing. I am so thankful to have joined this amazing community of passionate and kind people.
Since completing the internship, I'm happy to say I have completed my first job as an assistant editor in reality television. I'm currently looking for ways to continue earning my days and will hopefully join the union shortly thereafter.
Thank you to the post teams of The Idol, Rebel Moon and the Internship Committee for your generosity throughout this experience. I want to especially thank my mentor Maura Corey for her continued support and guidance. Thank you!
ALYSSA HANCE
Over the past eight months, the ACE internship has set me on a path towards becoming an editor that feels like a childhood dream come to life. I've always wanted to work behind the scenes in movies and TV because I've always loved storytelling.
In school, I explored the possibilities of telling stories as a writer or director, and then my eyes were opened to the world of post-production. I realized that my favorite way to be a storyteller was by being an editor. Editors have the ability to evoke emotions from audiences through subtle choices and tools, and the power to decide how a moment in a story is perceived.
When I discovered my passion for editing and started pursuing it as a career, I knew one of the most important steps would be to develop strong skills as an assistant editor. I was eager to learn these skills, and I could not have asked for a better opportunity to learn than through the ACE internship.
Through the program, Daniela and I had the opportunity to learn from a variety of projects, including a feature film, scripted series and unscripted projects. I was able to spend a week with the assistant editors, including Amy Pellouchoud and Israel Vasquez, who helped show me what a great assistant editor looks like and made me feel welcomed. Shadowing on these projects was a surreal experience, and it also gave me a well-rounded view of the editorial world. It helped me build confidence and feel ready to take on this career path.
Along with the amazing training and shadowing opportunities, the ACE internship also connected me with others in the postproduction community. ACE events and internship meetings introduced me to a community of other new aspiring editors, as well as experienced editors and AEs that inspire me. Last year, I was nervous to move to Los Angeles and start my career in a new city where I didn't know anyone, but now I feel like I have a supportive community on this journey with me.
Now that the internship is completed, I have spent the last few months working as an assistant editor on the Food Network Baking Championships. The reason I got connected to this opportunity was because during the ACE internship, I was able to spend a day shadowing with the team. Now I am continuing to pursue more assistant editing opportunities and hoping to join the union in the near future.
I'm so grateful to the assistant editors, editors and postproduction staff that welcomed me into their cutting rooms and allowed me to learn from their work on each project. I also want to thank the internship board for all of their guidance throughout the process, especially my mentor, John Axelrad, ACE. He supported and encouraged me throughout the entire program and beyond, and the guidance he provided will stick with me throughout my career. Thank you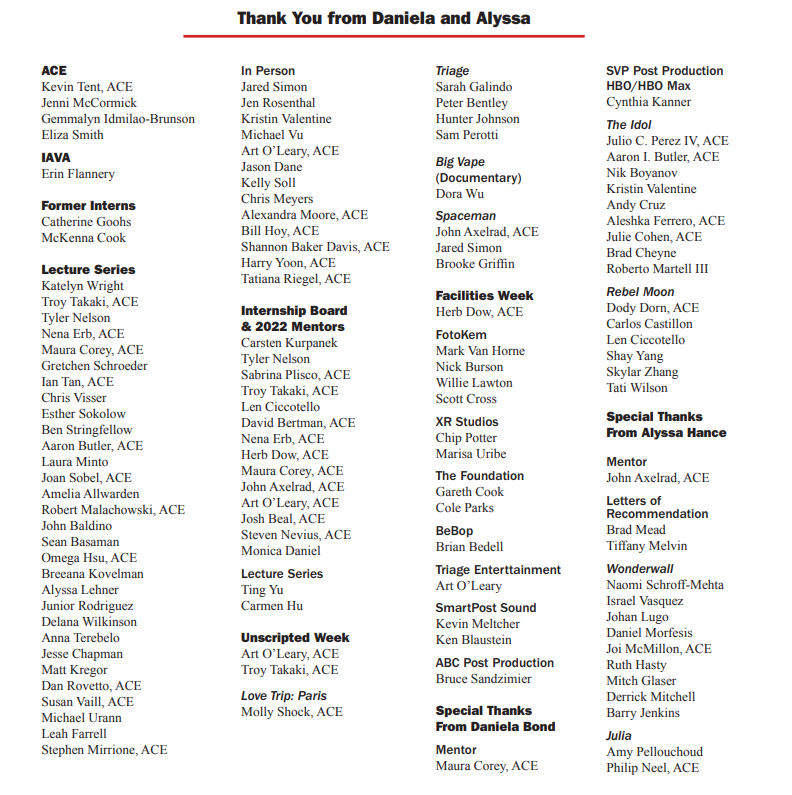 Explore Your Favorite Topics