Sidney Wolinsky, ACE Honoree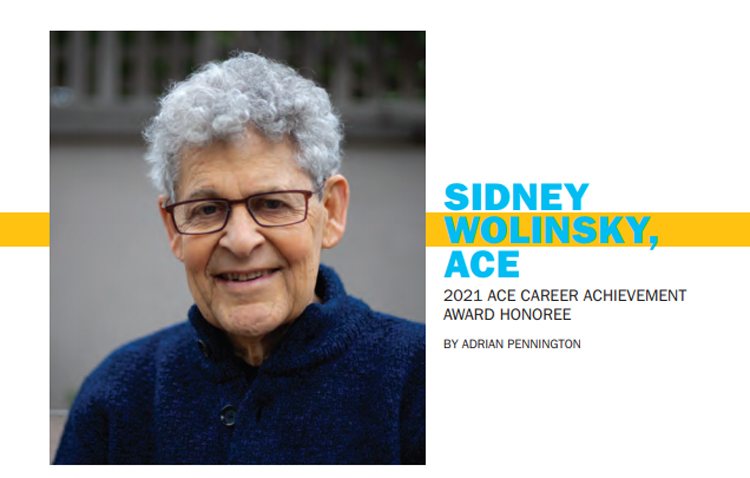 Is it too great a leap to suggest that the five decade career of Sidney Wolinsky, ACE, crafting motion pictures was directly influenced by his mother, the renowned Canadian sculptor Eva Stubbs? Probably, but let's entertain the thought for a moment.
"She liked to think that because her grandfather was a photographer to the court of the Hungarian King in the 1890s there may be a genetic link between him and me," Wolinsky reveals.
"I take that with a grain of salt," he adds, wryly. "My father ran an electrical wholesale and sold Christmas lights so perhaps there was an element of the theatrical about him too."
Born in Winnipeg, Wolinsky attended high school in Montreal then Brandeis University near Boston, excelling at English literature. It was more likely his affinity with the art of storytelling that attracted him to cinema.
"I was a film nut at college," he says. "I used to see a lot of films – sometimes eight films a week at the local arthouse where they had double features that changed every day. I'd watch the films of Godard and Truffaut among others. It might be [Sergei Eisenstein's] Battleship Potemkin and Ivan the Terrible one day, then Shoot the Piano Player, À Bout de Souffle or Yojimbo the next. I was an English and American literature major and even though there were no specific film classes, I educated myself in cinema as best I could."
Having "no idea" how films were made he decided nonetheless to enter film school. "Due to my own high levels of disorganization, I missed all the application dates for the big schools," he recalls.
"At the time in the late 1960s there weren't film schools everywhere but I did know San Francisco State University had one since it also had a reputable English department and because it was a state college anybody could go. I enrolled in January 1970."
At film school he had a hand in working on student films, sometimes as cinematographer or sound recordist, but was increasingly drawn to editing: "Everything else was very technical. Editing was more like telling the story."
Upon graduation he moved to Toronto and worked for broadcaster CBC in the film department. He worked in its rushes room handling material for all sorts of shows and cut news for a French language channel before moving to Los Angeles to join a friend who knew of a job at the Nuart, an arthouse cinema. "I worked as a daytime manager and spent the rest of my time trying to get assistant editor jobs."
Wolinsky's first professional editing job, in 1975, was for producer Fred Weintraub's Sequoia Pictures. Then he landed a staff position as assistant editor at Avery/Tirce, a commercial, production company. "Part of my job at the commercials company was taking ,prints to the labs which were often near studio lots. At that time, access to a lot was not like getting into Fort Knox. I'd take the opportunity to walk around the cutting rooms with my meager resume to see if I could get a job. I went door to door and eventually was hired by editor Jerry Shepard to assist him on McNamara's Band, a comedy for ABC.
He next assisted editor Richard Bracken on 1978 TV movie Suddenly, Love for producer Ross Hunter starring Joan Bennett and Lew Ayres. For Richard Marks, ACE, he assisted on several significant projects beginning with The Hand (1981), the second feature from writer-director Oliver Stone and on musical drama Pennies from Heaven.
"Pennies, directed by Herb Ross, was a big deal, the biggest movie at MGM at the time with Steve Martin and Bernadette  Peters – hot stars from The Jerk," Wolinsky says. "I was very excited about doing that." This liaison with Marks continued on 1984's Best Picture winner Terms of Endearment directed by James L. Brooks, on which Wolinsky was additional editor. "I worked very closely with Richie and got to really observe him and see how things were done. I learned a lot from him. Actually, Richie and Richard Bracken were very generous in letting me cut scenes on their films. Without them it may have taken a lot longer for me to be trusted with a solo credit."
His first cutting job as an additional editor was actually with editor Dov Hoenig on Garry Marshall's feature debut Young Doctors in Love in 1982, starring Sean Young and Michael McKean. My Tutor, a teen sex comedy directed by George Bowers released in 1983 was Wolinsky's first solo credit followed shortly afterward by anti-war comedy Best Defense starring Dudley Moore and Eddie Murphy. Marks had recommended Wolinsky to producer Gloria Katz and husband director Willard Huyck, a team with screenplay credits including American Graffiti and Indiana Jones and the Temple of Doom.
When they reconvened for their next project in 1985, Katz and Huyck asked Wolinsky to edit what should have been his breakthrough to the big league. Greenlit by Universal Pictures for $37 million, Howard the Duck featured various actors in duck suits. It was a box office dud. "It's not good to be on films that aren't successful but everything can be overcome," Wolinsky says. "Now I have things that supersede it." It could have sunk a 
lesser talent but Wolinsky persevered, striking up a fruitful relationship with director Alan Metzger and making a series of movies of the week. This began with The China Lake Murders in 1990 and continued with Trial by Fire, For My Daughter's Honor and Circle of Deceit among others.
"At the time movies of the week were a big thing to get on," he explains. "They are unique individual movies but clearly without the budget of a theatrical release and typically with a rapid turnaround. The shoot might last 15 days and the whole project three months.  If you're lucky you got to go from project to project."
Between 1989 and 1996 he cut 16 MOWs and 20th Century Fox feature Worth Winning from director Will Mackenzie. For MacKenzie he also cut Disney cable movie, Perfect Harmony and two half-hour comedy pilots, Camp California and Poochinski. Wolinsky recalls, "Will had been an actor and was very involved in theatre. He also had an extensive background in three-camera comedies as well as some one-hour dramas. I felt I learned a lot about performance from him."
For Mrs. 'Arris Goes to Paris, the editor was unusually asked to attend the location shoot in Budapest. Hungary was something of a mythical land for Wolinsky whose mother was born there in 1925 having immigrated to Canada in 1944.
"I'd always wanted to visit and was lucky enough to be able to take my mother back with me. It was her first time back since leaving. We tried to find the house where she had grown up but it was probably destroyed during the War." It always pays to do your best job each and every time and in Wolinsky's career this has paid dividends. He was certainly unaware in 1988 when cutting the pilot for drama series Almost Grown that a decade later it would lead to a major elevation in his career.
The show's creator, David Chase, remembered Wolinsky when he was preparing a new drama about New Jersey mafia for HBO. He invited the editor to cut the second episode and Wolinsky stayed to craft 32 more across six seasons for one of the most critically-lauded and internationally-successful TV hits of all time.
"Once I got onto The Sopranos I loved the material. How could you not?" Wolinsky says. "David really captured something that grabbed audiences with terrific characters helped by equally terrific performances. After MOWs which were one-time jobs, it was just great to finish a season and know that I was going to come back for another."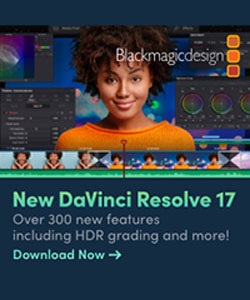 Explore Your Favorite Topics