EDITFEST Schedule & Panels
Join Us at EditFest Global 2022!  
EditFest is one of the greatest examples of ACE's mission to educate others about the craft of editing and to advance the art and dignity of the profession. Thanks to our generous sponsors, EditFest is able to provide a setting (both in-person and online this year) which attendees and panelists can interact and network, exemplifying ACE's mission to celebrate editors and the art of editing while encouraging the next generation.
Kevin Tent, ACE

President, American Cinema Editors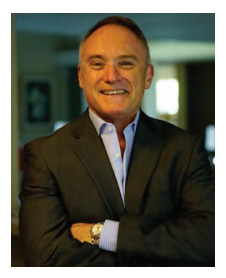 Saturday, August 27th, 2022
8:30am – 9:15am (pt) – Check-in or Login / Sponsor EXPO
9:30am – 9:45am (pt) – Welcome from ACE President, Kevin Tent  / Blackmagic Design presentation
9:45am – 10:00 am (pt) – Blackmagic Cloud Store Mini Giveaway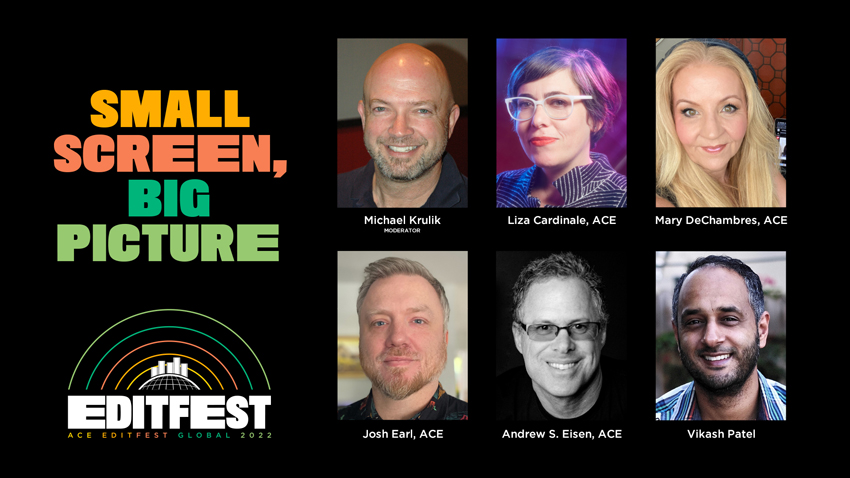 10:00am – 11:30am (pt)
"Small Screen, Big Picture"
Panel Moderator – Michael Krulik
Avid Product Marketing and Evangelist, Los Angeles
Panelists: 
Liza Cardinale, ACE – What We Do In The Shadows

Mary DeChambres, ACE – American Ninja Warrior, RuPaul's Drag Race All Stars

Josh Earl, ACE – Obi-wan Kenobi

Vikash Patel – Ozark

Andrew S. Eisen, ACE – The Mandalorian, The Hateful Eight, Book of Boba Fett


11:30 am – 11:45 (pt)  –  15 minute break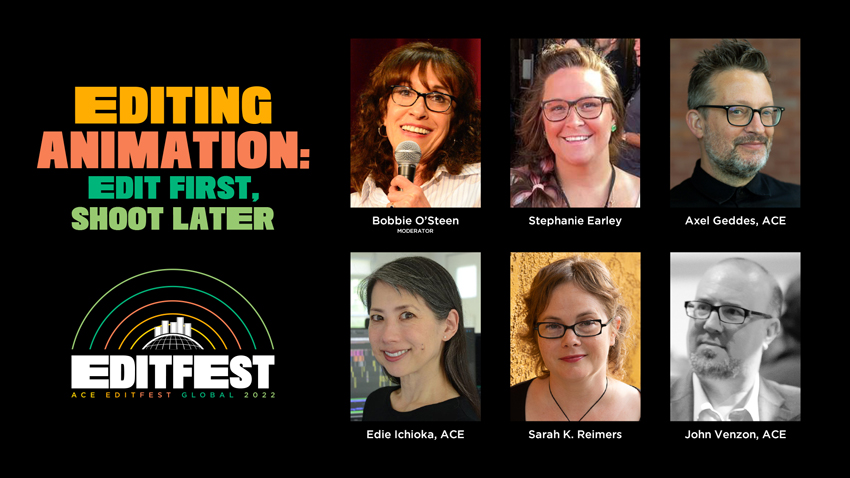 11:45am – 1:15pm (pt)
"Editing Animation: Edit First, Shoot Later"
Panel Moderator – Bobbie O'Steen
Author – "Making the Cut at Pixar: The Art of Editing Animation", "The Invisible Cut" & "Cut to the Chase"
Panelists:
Stephanie Earley – Central Park

Axel Geddes, ACE – Toy Story 4, Finding Dory

Edie Ichioka, ACE–  Toy Story 2, The Boxtrolls, Over the Moon

Sarah K. Reimers – Finding Dory, Baymax!, Strange World, Piper

John Venzon, ACE – The Bad Guys, Lego Batman Movie
1:15pm – 1:30pm (pt) – 15 minute break
1:30pm – 2:00pm (pt)
Saturday Networking / Break-Out Rooms
Hosted by Tyler Nelson – The Batman, Mindhunter
     Assisted by Margot Nack 
Hosted by Harry Yoon, ACE – Minari, Shang-Chi and the Legend of the Ten Kings
     Assisted by Robbie Gibbon 

Hosted by Stephanie Filo, ACE – Black Lady Sketch Show, For Life
     Assisted by Heather Capps
Hosted by Elisabet Ronaldsdóttir, ACE – Atomic Blonde, Bullet Train
     Assisted by  Glenn Garland, ACE 
Hosted by Aaron I. Butler, ACE – Euphoria, Cries from Syria
    Assisted by Alfonso A. Carrion 
2:00 pm (pt) – Sign off for the day
Sunday, August 28th, 2022
9:00am – 9:30am (pt) – Online only log-in / Chat open / Networking
9:30am – 9:45am (pt) – Intro Video / 60 second Sponsor Reel / Sponsor EXPO Open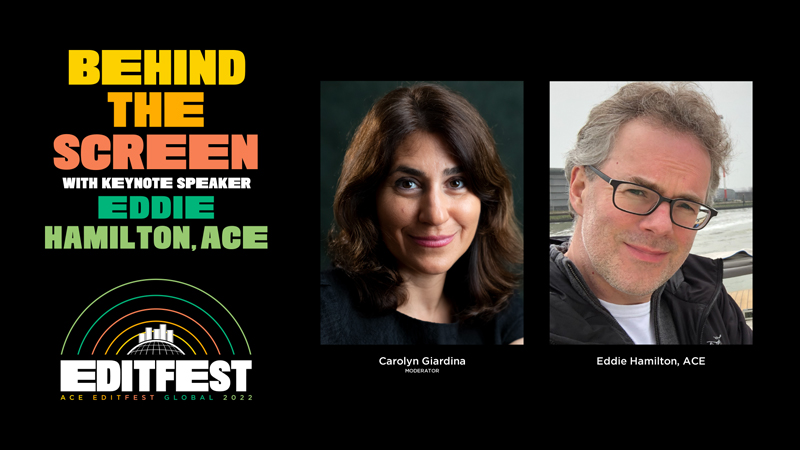 9:45am – 11:15am (pt)
Keynote Speaker:
"Behind the Screen" with Eddie Hamilton, ACE
Credits include Top Gun:Maverick and Mission Impossible:Fallout & Rogue Nation, Kingsman:The Secret Service & The Golden Circle, X-Men: First Class and Kick-Ass. His enthusiasm for big screen storytelling is matched only by his total dedication to the craft of film editing, his nerdy technical expertise and his undisputed love of chocolate.
Moderator –  Carolyn Giardina
Tech editor, The Hollywood Reporter
11:15am – 11:30am (pt) – 15 minute break Sponsor EXPO Open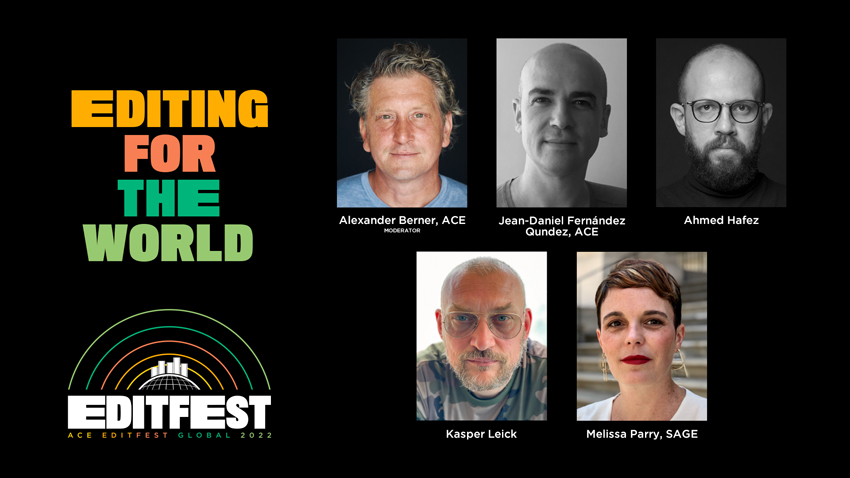 11:30 – 1:00pm (pt)
"Editing for the World"
An event connecting editors around the world who are part of the ever-changing landscape of telling stories with the moving image.
Panel Moderator – Alexander Berner, ACE
Berner's International editing credits include Babylon Berlin, Resident Evil, Cloud Atlas
Panelists:
Jean-Daniel Fernández Qundez, ACE  – The Witcher,Lupin

Ahmed Hafez – Moon Knight, Paranormal
Kasper Leick – A Royal Affair, Borgen

Melissa Parry, SAGE (South African Guild of Editors), Queen Sono, Senzo: Murder of a Soccer Star
​
1:00pm – 1:15 pm (pt)  – 15 minute break
1:15pm – 2:00pm (pt)
Sunday Networking / Break-Out Rooms
Hosted by Susana Benaim – National Treasure: Edge of History, The Dropout
     Assisted by Daniel Martens
Hosted by Matt Allen – Eric Zumbrunnen Fellow
     Assisted by Carmen Hu
Hosted by Adam Epstein, ACE – The Bear, Saturday Night Live
Co-Host Joanna Naugle – The Bear
     Assisted by Morgan Prygrocki
Hosted by Sushila Love – Sally Menke Fellowship
Co-Host Susan E. Kim – Sally Menke Fellowship
"Making the Cut at Pixar: A Look Inside"
Hosted by Bobbie O'Steen – Author, The Invisible Cut & Cut to the Chase
Co-Host Bill Kinder – Finding Nemo, Monsters, Inc., Jack
Co-Host Carol Littleton, ACE – E.T. the Extra-Terrestrial, The Manchurian Candidate
     Assisted by Alyssa Donovan 
Hosted by Joan Sobel, ACE – A Single Man, Moon Knight, Nocturnal Animals
     Assisted by Esther Sokolow
Nicholas Monsour – Nope, Us
     Assisted by Irene Chun
2:00 pm (pt) – Sign off 
Become an EFG Contributor