EditFest Global 2021
Last year's EditFest Global event was a big success! Once again it will feature panel conversations, a keynote address and networking opportunities with an array of talented editors from around the world. Many thanks to all of our incredible and accomplished editors and staff who made this happen!
Sign Up for EditFest Virtual Event Today!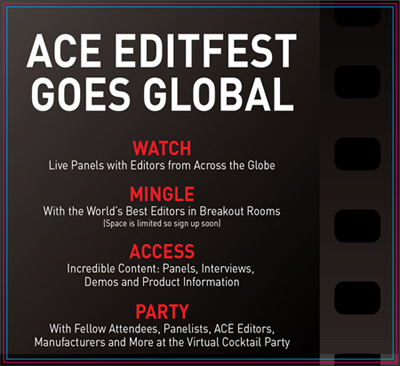 About EditFest
EditFest Global expands upon ACE's popular EditFest events. Launched in Los Angeles in 2008, and expanding to New York in 2009 and London in 2013, EditFest puts editors on stage and in lively discussion with attendees.
In response to the circumstances of 2020 and 2021 and fueled by audience demand, ACE developed EditFest Global, where editors and attendees can continue to connect virtually. The 2-day event is on August 28th & 29th, 2021.
August 28 & 29 Schedule

Sat & Sun (PST)
Panels – In-depth discussions with a moderator and featured guest or panel of 4-5. There will be time for audience Q&A at the end of each panel. 
Breakout Sessions – Seating in each breakout room will be limited to ensure that all attendees have dedicated time to engage with their Special Guest Session Leader-Editor.  All Session Leaders subject to change based on availability. 
Saturday – "Editing For Musicals"
Sunday – "From Assistant to Editor: Mentoring the Next Generation"
SATURDAY: "Inside the Cutting Room" with Bobbie O'Steen – A Conversation with Tom Cross, ACE
SUNDAY: "International Partner Program Launch" – Strengthening the Art of Editing in the Global Film Community
DO NOT MISS THE BREAKOUTS!
Breakout Sessions Friday & Saturday – these will be 40 minute small session groups, led by one of today's industry leaders! THIS IS WHY YOU NEED TO BUY YOUR TICKET NOW…seats are limited and space in these breakouts are first-come-first-served. So get your ticket now! Get your first picks for breakouts and get facetime and networking time that has made EditFest famous. 
What happens next?
This is more than a weekend…
EditFest Global is kicking off on August 28 & 29, but it doesn't stop there! ACE has partnered with organizations all over the world to keep new events, interviews, discussions, videos, training & networking opportunities coming!
Sign up today! Get access to CinemaEditor Magazine, pre-recorded interviews with today's top editors, exclusive events & panel discussions, articles, podcasts, discount codes and more…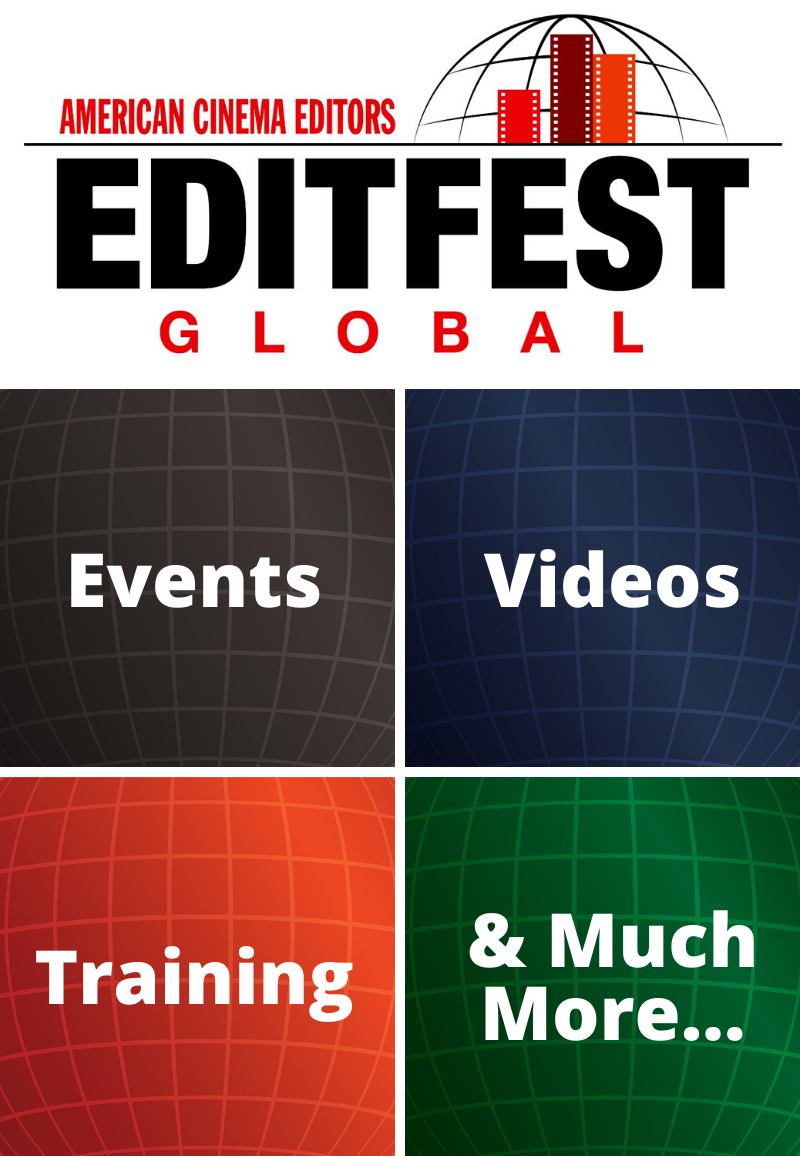 Become an EFG Contributor
JOIN & GET YOUR TICKET TODAY!