EditFest Global is one of the greatest examples of ACE's mission to educate others about the craft of editing and to advance the art and dignity of the profession. Thanks to our generous sponsors, EditFest Global is able to provide a virtual setting on September 30th, 2023. Attendees and panelists will be able to interact and network, exemplifying ACE's mission to celebrate editors and the art of editing while encouraging the next generation worldwide.
Kevin Tent, ACE
President, American Cinema Editors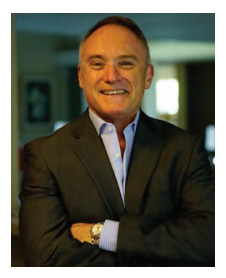 ACE EDITFEST GLOBAL
(Held Sept 30, 2023)
Please check back soon to view videos of the Panels & Breakout Sessions

7:15am to 7:30am – Early Bird EditFest Intro (All Listings are Pacific Time)
7:30am to 9:00am
ARTIFICIAL INTELLIGENCE:
Exploring the Technology and Its Impact on the Art of Editing
(First Rebroadcast of AI Panel, from in-person, EditFest LA)
Moderated by Carolyn Giardina, Tech Editor -The Hollywood Reporter
Zack Arnold, ACE – Optimize Yourself, Cobra Kai\
Jon Dudkowski, ACE – Star Trek: Discover
Chad Nelson – Creative collaborator with OpenAI, Credits include Award Winning Animated Short, Critterz
Cristóbal Valenzuela – Co-founder and CEO of RunwayM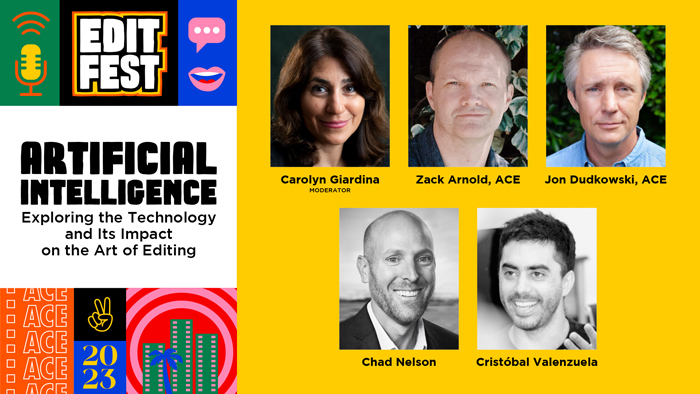 9:30am – 11am
"My Favorite Bit"
An homage to Norman Hollyn's "Lean Forward Moment"
Moderated by Ant Boys, ACE – The Great, The Marvelous Mrs. Maisel, and Veep
Film editors from around the globe will show a clip from a film or show they love. They'll discuss its significance, why they found it so attention-grabbing, and most importantly, how it inspired them.
Sujit Agrawal, ACE –  Satya, Send Help  
Debbie Berman, ACE – Spider-Man: Homecoming, Black Panther, Captain Marvel
Elisa Bonora, ACE – Glen Campbell: I'll Be Me, Still Working 9 to 5
Claudia Castello, ACE – Prey, Creed, Fruitvale Station 
Bradinn French, ACE – A Black Lady Sketch Show, American Horror Story 
15 Minute Break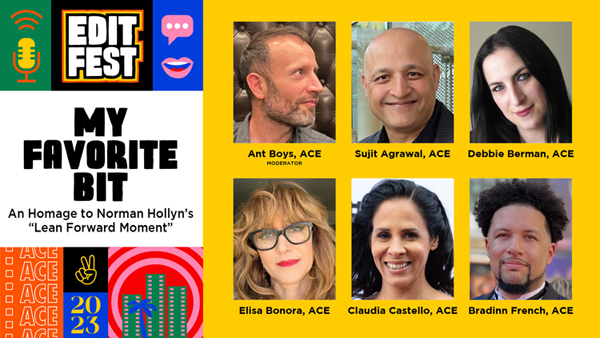 11:15am to 12:45pm 
Master Class with Hank Corwin, ACE


Moderated by Joshua Handler, co-founder and programmer for Picturehouse 441
Hank Corwin, ACE – The Big Short, Vice, Don't Look Up, Natural Born Killers

12:45pm to 1:30pm – 45 Minute Lunch Break, time to network and visit the Sponsor Expo
 1:30pm – 2:30pm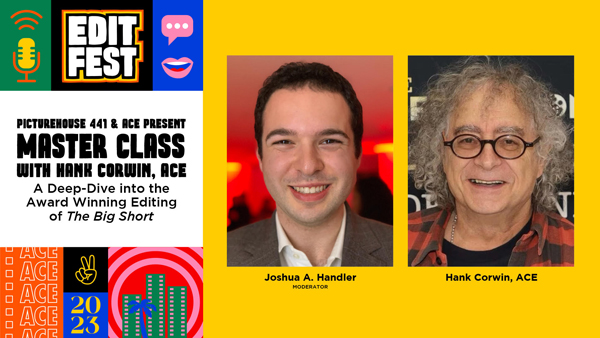 1:30pm – 2:30pm
Live Break-Out Sessions 
Bob Ducsay, ACE – Glass Onion, Knives Out, Star Wars: The Last Jedi
Moderator – Sean Linal

Erica Freed Marker, ACE – Severance, Dead Ringers, Alaska Daily
Moderator Alfonso Carrion 

Conversation with Author Bobbie O'Steen and Susan Vaill, ACE – Hacks, This is Us
Moderator – Irene Chun

BIPOC DOC Editors Chairpersons:
Carla Gutierrez, ACE – RBG, The Last Out
David Teague – Pretty Baby, Becoming
Moderator – Susana Benaim

Russell Griffin, ACE talks about Editing Multi-Camera Shows – How I Met Your Father, Family Reunion, Mad About You
Moderator Alyssa Donovan 
2:30pm – Closing Comments
A rebroadcast of the entire EditFest Global event, including the Artificial Intelligence Panel from EditFest LA, will be available ON DEMAND immediately at the close for those unavailable to tune in earlier.
Become an EFG Contributor