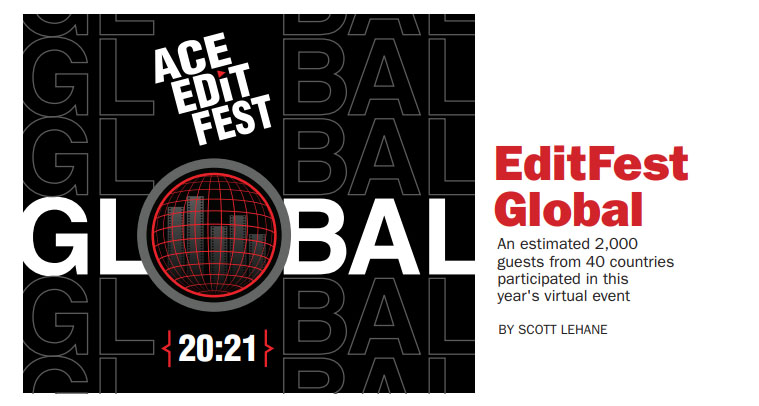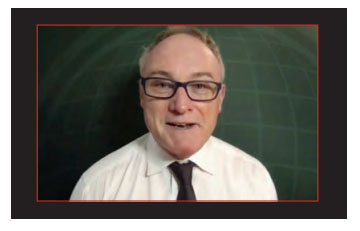 American Cinema Editors' 2021 EditFest Global event (Aug. 28-29) featured three panel discussions, 18 breakout sessions and plenty of networking, as well as an in-depth discussion with Tom Cross, ACE. ACE President Kevin Tent, ACE, kicked off the virtual event, welcoming nearly 2,000 attendees from more than 40 countries.
Inside the Cutting Room Author and film historian Bobbie O'Steen looked "Inside the Cutting Room" with Cross, who won an Oscar® for his work on Damien Chazelle's 2014 drama Whiplash, which O'Steen described as "a small film that really took the world by storm." Cross has continued his collaboration with the director on La La Land in 2016, which earned him his second Oscar nomination and First Man (2018) and is currently working on Chazelle's upcoming period drama Babylon.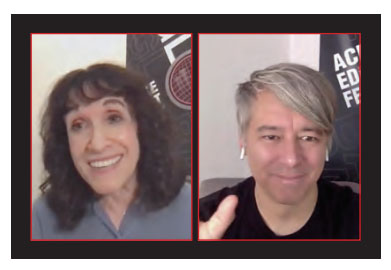 Cross described the long path to his big break on Whiplash, after serving as an assistant editor for 20 years. But he reported that he knew that this was his calling from a very young age growing up in Rochester, NY, where he would read everything he could get his hands on regarding editing and editors. And he was fortunate to have very supportive parents who encouraged him to study film at SUNY Purchase. "I did want to become an editor, but along the way I was hoping to be a really good assistant editor and kind of learn from the masters," he said. "I learned so much from every editor that I've worked for – Beth Kling, Jeff McEvoy, John Axelrad, the list goes on and on. I've worked for a lot of great people and I've learned something from them all."
He explained that old-fashioned networking helped land him his break on Whiplash when a producer hooked him up with Chazelle, who was a fan of some of the John Gray movies he had worked on. He explained that in Chazelle, he saw someone "who appreciated the importance of just a single frame, what that could do. And so, in that way, we were kind of [on the] same wavelength." They quickly developed a rapport and a shorthand. Cross shared the opening sequences from his three Chazelle films and talked about some of the challenges they faced on each. He explained that when they dig into the edit, Chazellealways likes to start at the end of the film. "That would in turn, empower us and … inspire us to go back to the beginning and we would know where we had to lead up to." He related that Chazelle's philosophy is that "the last section or scene in the movie should be your best, and the second-best scene should be the first one. It's important to Damien to honor that idea and really start with a bang.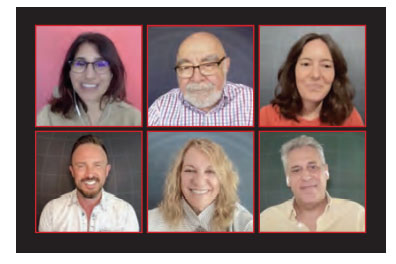 The Art of Editing for Musicals
A discussion on the art of editing for musicals featured Kris Fitzgerald; Ali Greer; Alan Heim, ACE; Virginia Katz, ACE; and Myron Kerstein, ACE, who discussed some of the unique challenges of cutting a musical with moderator Carolyn Giardina of The Hollywood Reporter.
One of the key topics was how to transition into the musical numbers without it being jarring. Greer played the "Corn Pudding" clip from the premiere episode of Apple TV+ series Schmigadoon! and explained that in her case, instead of easing into the musical numbers gently, they were going for the opposite effect simply for its comedic value. Heim shared a clip from his Oscar-winning work on All That Jazz and talked about his collaboration with director Bob Fosse. "I learned everything that I knew about musicals from working with Bob," he said. "We were walking one night on Broadway and he said that he wanted to do Chicago as a film but he couldn't solve the problem and I said, 'You mean the problem of how to work the musical numbers into the story naturally?' Because he never wanted to have a number that came out of nowhere."
Katz shared a clip from Dreamgirls and explained that "when you're reading a script from the very beginning, you're reading the transitions … whether it's a musical or a drama or whatever, it has to flow into the next scene." She explained that one of the most challenging transitions in Dreamgirls was a sequence during which Jamie Foxx sings for the first time. "We were a little worried. We thought, 'Are people going to be … thrown out of their seats or confused?'" she said. "So, we kind of did it in a way where we start him talking and then kind of get him into song in a smoother way than we had
originally intended."
Kerstein shared a clip from his work on Jon Chu's In the Heights. "One of the things that I started to rationalize in my head was that these weren't vocals. This was dialogue," he said. "I just started to think of it that way and that the genre was just using a different set of rules … I just had to embrace it." Kerstein added that sometimes you have to figure out ways to carve out moments of normal dialogue, or something other than music, in order to "earn the next number."
Fitzgerald introduced a clip from the premiere episode of the animated Apple TV+ musical Central Park. "Animation is a little different creature than live action," he said. "With animation our world is in the animatic and storyboard phase," he continued. "It's much cheaper to change angles and change
setups and to play with that there than to have a fully-animated scene and decide, let's do something different.… Really the creative part is in the animatic."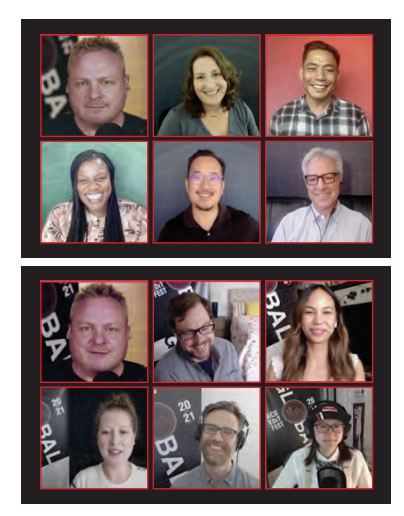 From Assistant to Editor
Matt Feury, Avid's Senior Director of Artist Relations, led a two-part panel discussion on the journey from assistant to editor. For the first part he was joined by Alan Baumgarten, ACE; Ben Bulatao, ACE; Melissa McCoy, ACE; Joi McMillon, ACE; and Harry Yoon, ACE. For the second part, he spoke with their assistant editors – Francesca Castro, Irene Chun, Christina Mar, Daniel Morfesis and Art O'Leary, ACE.
The editors addressed how they got their big breaks in the industry and offered advice for those looking to land in the editor chair someday. They described the long nights of cutting indie films and shorts on the side while they built up their reels, learning everything they could along way. They emphasized the importance of networking and learning to sell yourself so that when the opportunity arises, you'll be ready. The editors also discussed what they look for in a good assistant, addressing things like maintaining good relationships and knowing when 'communication is appropriate.' "The editing room is supposed to be a safe space," said McCoy. She stressed that what's said in the editing room should stay in the room, and that directors need to feel comfortable discussing sensitive issues even with the assistant around.  Baumgarten offered, "I think it's fine to make mistakes.
Hopefully you catch your own mistakes" and learn from them.
McMillon added, "Owning up to the mistake is so much better than trying to push it off on someone else, because then you kind of start to doubt, like, should I trust this person? And I think one of the biggest things that matters … in this industry is trust." Hard work helps assistants graduate to editor. "The ones that are ready, definitely you can see that spark in them," said Bulatao.
"I know we'll try to hold onto our assistants as long as possible, but to see them succeed, we do need to say, 'It is now time for you to go and be who we know you can be,'" said McCoy. For their part, the assistants echoed many of the same sentiments as their mentors, like the importance of maintaining
confidentiality in the editing room and the importance of networking and maintaining interpersonal relationships and helping each other out.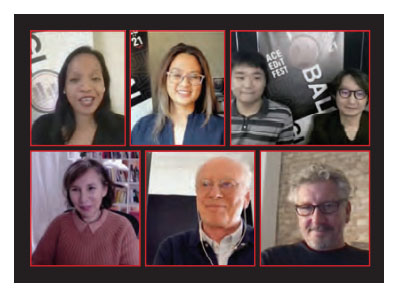 Strengthening the Art of Editing
in the Global Film Community Guests learned about ACE's International Relations initiatives through a panel discussion on strengthening the art of editing in the global film community featuring German editor Alexander Berner, ACE (Miss Sloane); Danish editor Janus Billeskov Jansen (Flee); Korean editor Yang Jinmo, ACE (Parasite); Chilean editor Soledad Salfate (A Fantastic Woman); and Michelle Tesoro, ACE, (The Queen's Gambit) with moderator Jazz Tangcay of Variety.
The editors discussed how they got involved in editing and what sparked their initial interest. Then they shared clips from some of their recent work and discussed some of the unique cultural nuances from their respective regions. Speaking through an interpreter, Yang said that in Korea the norm is for the editor to be on set, right next to the director where the cast and crew can look over your shoulder while you edit. He added that, compared to the U.S., everything "has to be incredibly fast."
Salfate explained that after an oppressive military dictatorship came to an end in 1990, the arts started to flourish again in Chile in the mid-90s. "We started to make about one movie a year and so I started to knock on doors for them to let me be an assistant," she said. She recalled that by 2000, Chilean filmmakers started to realize that "we could talk to the world, not only to our friends.… We realized that there were festivals around the world. We didn't know that until we started making movies." She reported that now the country is starting to make a lot of films for Netflix and other streamers and looking at international markets throughout Latin America and beyond.
Jansen noted that the world has changed a lot over his 51 years in the business and that with the advent of streaming services, "the stories that we can tell are much more complex. And it's become much more fun to tell a story because you can reach many different layers in the story and reach many different audiences … that complexity is something which isreally interesting."\
Brener added that big shows involve more and more editors. "Over the past five years, you get to meet a lot more of your editing colleagues and you get to exchange work. You get to talk about the work and it's really inspiring to work in teams." Tesoro, who serves on ACE's International Relations Committee, said, "Our mission is to create a more global community of editors and to bring people together under the idea of ACE so that we have that kind of sense of community anywherein the world.… It's fun to hear how people work and what  influences they have. It makes the art of what we do more fun and more enriching."
With the EditFest panel, ACE kicked off a new International Partnership Program. "The best thing about becoming an ACE member is getting to meet such wonderful editors from all around the world," said Yang. "More importantly, I'm no longer confined to Korean projects. I get a lot more offers from projects around the world."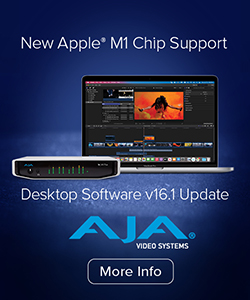 Explore Your Favorite Topics