Featured in Content:
Editors on Editing | Glenn Garland ACE | podcast | Terilyn A. Shropshire ACE | The Woman King
Glenn Garland, ACE talks with Terilyn A. Shropshire, ACE about editing the exhilarating, powerful film, THE WOMAN KING. Teri's credits include 

EVE'S BAYOU, LOVE & BASKETBALL, REDEMPTION: THE STAN TOOKIE WILLIAMS STORY, for which she won the EDDIE, TALK TO ME, BEYOND THE LIGHTS, WHEN THEY SEE US: Part One, for which she was nominated for the EDDIE, and THE OLD GUARD.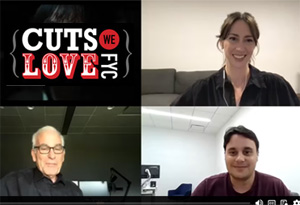 Cuts We Love: "Beef" EidtFest Sneak Peek interview by Michael Tronick, ACE, with editors of "Beef", Laura Zempel, ACE and Nat Fuller, Emmy nominees for their work on the season...
Explore Your Favorite Topics