Featured in Content:
ACE | Editors on Editing | Glenn Garland ACE | Tyler Nelson | William Hoy ACE. podcast
Glenn Garland, ACE talks with William Hoy, ACE & Tyler Nelson
Glenn talks with editors William Hoy, ACE & Tyler Nelson about "The Batman." William has a long list of editing credits including "Dawn of the Planet of the Apes", "Watchmen", and "I, Robot." Tyler has rocketed onto the scene having worked on films like "Gone Girl", and "The Social Network" as well as shows like "House of Cards" and "Mindhunter." We hope you enjoy the episode.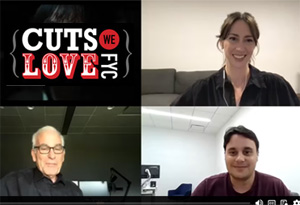 Cuts We Love: "Beef" EidtFest Sneak Peek interview by Michael Tronick, ACE, with editors of "Beef", Laura Zempel, ACE and Nat Fuller, Emmy nominees for their work on the season...
Explore Your Favorite Topics