Featured in Content:
Alan Heim ACE | Andrew Weisblum ACE | Don't Look Up | Dune | Hank Corwin ACE | IAVA 2022 | Joe Walker ACE | King Richard | Myron Kerstein ACE | Oscar®-nominated editors | Pamela Martin ACE | Peter Sciberras | The Power of the Dog | tick tick Boom
IAVA 2022 – Moderator Alan Heim, ACE interviews Oscar nominated editors. Joe Walker, ACE, for Dune, Myron Kerstein, ACE and Andrew Weisblum, ACE for tick, tick, Boom, Pamela Martin, ACE, for King Richard, Hank Corwin, ACE, for Don't Look Up, and Peter Sciberras for The Power of the Dog.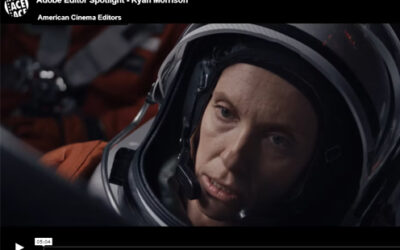 Adobe Spotlight with Ryan Morrison, editor of "Stowaway" on Netflix ​  More...Explore Your Favorite TopicsEditFestTechnologyInterviewsMoviesNewsCinemaEditorMagTelevisionEditors...
Explore Your Favorite Topics