In Memoriam – Donn Cambern, ACE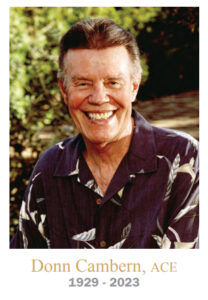 Donn Cambern, ACE – perhaps best known for editing classic road movie Easy Rider – passed away on Jan. 18 at St. Joseph Medical Center in Burbank due to complications from a fall. He was 93.
Cambern enjoyed a career that spanned half a century. Born in Los Angeles in 1929 to a father in the music publishing business and a mother who played the harp in RKO's orchestra, it was natural that he graduated from UCLA with a degree in music. He was hired at Disney as a messenger eventually getting into editorial as a music editor. He went on to work on classic series including The Andy Griffith Show, I Spy, Gomer Pyle and The Ghost and Mrs. Muir.
He even composed some of the music for them. Working in music through the '60s, he was a picture editor on only one feature, 2000 Years Later, when fellow editor, Gerald Shepard (who was busy producing and editing The Monkees) recommended Cambern to Dennis Hopper. It truly was the hand of fate. Interviewing him for Easy Rider, Hopper asked what interesting films had Cambern recently seen and the editor replied, Closely Watched Trains, a Czech film that had won the Oscar for best foreign language film. Hopper was suitably impressed and Cambern was hired.
Because Cambern had only been a picture editor once, he brought few prejudices to the job. This was to the advantage of the picture as he was willing to try all sorts of things that a more seasoned editor might have rejected. Famous are the chatter cut transitions used at certain times. Bringing the film down to a respectable 95 minutes was a Herculean task because Dennis loved everything he shot.
The triumph of Easy Rider led to Cambern taking over the editing duties for director Peter Bogdanovich on The Last Picture Show. Cambern became an A-list editor with films like Blume in Love, The Hindenburg, Twins and The Butcher's Wife. Cambern received an Oscar nomination for Romancing the Stone, and also earned four Eddie nominations and an Emmy nomination. He received the ACE Career Achievement Award in 2004.
His contributions to his field included serving as president of the Motion Picture Editors Guild from 1992 to 2001. He also served as a Governor at the Academy of Motion Picture Arts and Sciences and a teacher at the American Film Institute. Donn was much admired by his friends and associates and his passing is a great loss to the editing community. Cathy Repola, national executive director at the Editors Guild, said, "During his years serving as president of the Guild he was instrumental in initiating and steering us through significant changes that have ultimately benefited all of the members. We are forever grateful to him."
His beloved wife, Patricia Lee, passed away in 2018 and he leaves behind three children. His legacy is in the films that he crafted which live on in the hearts of so many people that he touched and helped. He was a very special editor. We shall always miss him.
– JACK TUCKER, ACE
Explore Your Favorite Topics