In Memoriam – John Martinelli, ACE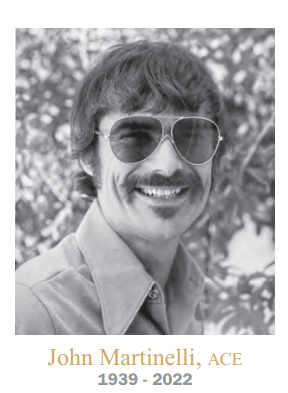 A veteran editor and five-time president of American Cinema Editors, John Martinelli, ACE, passed away on May 24, his 83rd birthday. He was also an MPEG, SAG and DGA member.
He was born into editing, being the son ofTony Martinelli whose credits dated back to 1935. His father was able to get him into the Editors Guild, but it was up to him to work his way up. He started in the shipping room at ABC. After completing his military service he was able to get an assisting job on the Flipper television series. The show was filming and posting in Florida and most people didn't want torelocate, but Martinelli was happy for the chance to work on the show. Supervising editor Erwin Dumbrille taught him how to do openings and trailers. Eventually John was co-editing with him.
This led him to The Bill Cosby Show and his sense of story also led him to many movies of the week such as Footsteps, Firehouse, The Legend of Lizzie Borden, The Defection of Simas Kudirka and The Winds of Kitty Hawk. In 1982, he was contacted by Ethel Winant, head of miniseries for NBC, about going to Italy to view the dailies of a film being made by writer/producer Vincenzo Labella about Marco Polo. Seeing the potential of the project, Martinelli took on the editing and delivered in seven months the 10-hour miniseries Marco Polo.
He received both Emmy and Eddie nominations for his masterful weaving of the story. Editing was definitely in John's DNA. He loved his work and his long service with ACE demonstrated his devotion to the craft and its place in the industry.
Under his care the ACE Eddie Awards grew from an informal event at the Bel-Air Country Club to the prestigious event it is today. John met his future wife, Norma, at a party thrown for her by a friend who had invited her to California. The chemistry was immediate, and they married. They were together, very much in love, for 63 years. She accompanied him wherever his work took him.
Martinelli flourished in the miniseries format and soon became known as the "King of the Miniseries" with projects like Murder in Texas, A.D., The Murder
of Mary Phagan and World War II: When Lions Roared. As he traveled about the world making films he was supported by Norma. It was Norma who convinced him to do The Legend of Lizzie Borden which gave him his first Emmy. The film also earned Golden Globe and Eddie nominations.
In his career Martinelli won four Emmys, two Eddies and was a recipient of the ACE Career Achievement Award. He finished out his career in 1998 with three movies of the week: Nightmare Street, Indiscretion of an American Wife and Little Girl Fly Away. Upon retiring, he and his wife moved to St. Louis where she had family.
– JACK TUCKER, ACE, who was among the many editors to have been presented his ACE membership plaque by Martinelli.
Explore Your Favorite Topics