Featured in Content:
Belfast | Dublin Editors | Eoin McDonagh | Interview | Una Ni Dhonghaile ACE | video
Eoin McDonagh, of Dublin Editors, in a conversation with Úna Ní Dhonghaile, ACE, editor of "Belfast".
Join us for a deep dive into the editing of Kenneth Brannagh's Belfast with Úna Ní Dhonghaíle, ACE. We'll have the inside story of the making of this semi-autobiographical film which chronicles the life of a working class family during the tumult of the late 1960s in Northern Ireland. What happens to the deleted scenes, did it always end like that, what's Van Morrison really like?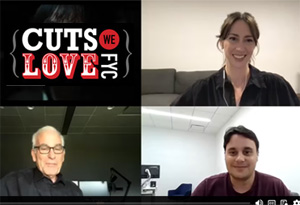 "BEEF" An interview by Michael Tronick, ACE, with editors Laura Zempel, ACE and Nat Fuller, Emmy nominees for the season finale, Episode 10 "Figures of Light."  The scene chosen...
Explore Your Favorite Topics