Featured in Content:
Beef | Cuts We Love | Laura Zempel ACE | Michael Tronick ACE | Nat Fuller
EidtFest Sneak Peek interview by Michael Tronick, ACE, with editors of "Beef", Laura Zempel, ACE and Nat Fuller, Emmy nominees for their work on the season finale, Episode 10 "Figures of Light." The idea of Cuts We Love is not to cover the craft of the whole show but to dissect just one scene. The scene they've chosen for this ACE EditFest Global Sneak Peek shows Amy (Ali Wong) and Danny (Steven Yeun) lost in the woods and they've mistakenly ingested some poisonous berries, start tripping and seem to undergo a body swap. Laura and Nat explain how their thought processes and editing decisions helped them shape this pivotal scene.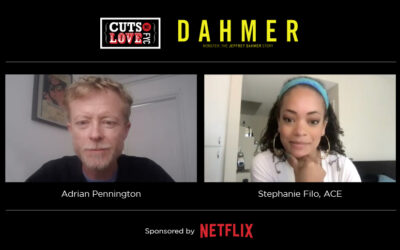 Cuts We LoveNetflix's "Dahmer - Monster: The Jeffrey Dahmer Story"In this special edition of Cuts We Love, Adrian Pennington discusses "Dahmer – Monster" with Stephanie Filo, ACE...
Explore Your Favorite Topics