Featured in Content:
ACE | International Partnership
International Partnership Program
The ACE INTERNATIONAL PARTNERSHIP PROGRAM is for experienced and well-established editors living and working outside of the U.S., who are members of an editing organization, recognized by ACE, in their own countries. International Partners must be members in good standing of their local editing organization.
ACE International Partners become part of ACE's network of film editing professionals. They attend ACE gatherings, receive discounts on ACE events around the world (including US events), and receive a complimentary subscription to CinemaEditor Magazine.
They are also invited to vote in the final round of the Feature Film categories of the Eddie Awards with their names listed in a special section of ACE's Membership Roster as the second most important membership category. They may also indicate their ACE International Partnership on their resume and in their biography.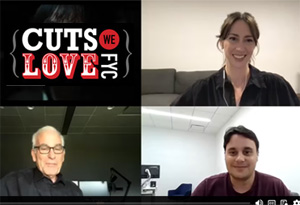 Cuts We Love: "Beef" EidtFest Sneak Peek interview by Michael Tronick, ACE, with editors of "Beef", Laura Zempel, ACE and Nat Fuller, Emmy nominees for their work on the season...
Explore Your Favorite Topics