Featured in Content:
:Hacks" | "This Is Us" | Manhattan Edit Workshop | Susan Vaill
Susan Vaill, ACE – Editor, "This is Us" & "Hacks"
Manhattan Edit Workshop – Their Next Artist in Residence
MEWShop's Six Week Intensive Art of Editing Workshop Starts Online May 2nd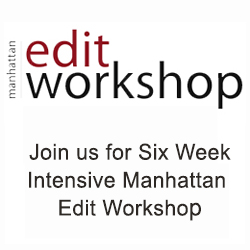 Susan Vaill, ACE, is an editor of both comedy and drama series, including "Hacks," "This Is Us," "Space Force," and "Grey's Anatomy."  Susan's love of music-driven storytelling has led her to be described as 'a legendary music supervisor masquerading as an award-winning editor.'  In 2022 Susan won the ACE Eddie award for Television Comedy Editing for the "Hacks" episode, "1.69 Million, as well as a 2021 Emmy nomination for editing the "Hacks" episode "Primm," and an HPA Award for editing the "Hacks" episode "Falling."
Born and raised in Los Angeles, Susan first entered the film industry in an '80s Doublemint gum commercial and the Hal Ashby film "Bound For Glory."  She studied film theory and art history at Williams College and got an MFA in film production at USC.  After assistant-editing on documentaries and feature films like "The Last Samurai," Susan edited over 70 episodes of "Grey's Anatomy" which won the Golden Globe for Best Drama Series in 2008.  Her very first episode "Into You Like A Train" was nominated for the DGA Award in Drama.  Susan also directed three episodes of the series, one of which featured an Emmy-winning performance by guest actress Loretta Devine.
After a decade at Grey's Anatomy, Susan turned to comedy, editing the HBOMAX series "Hacks" led by Jean Smart, "Space Force" led by Steve Carrell, "Grandfathered" led by John Stamos, and "Me, Myself & I" led by Bobby Moynihan and John Larroquette.  She returned to drama to edit the upcoming HBO limited series "The Time-Traveler's Wife," the award-winning NBC drama "This Is Us," and the critically acclaimed AMC dramedy "Lodge 49."  Her "Lodge 49" episodes "Circles" and "Le Reve Impossible" earned spots on The New York Times' and Entertainment Weekly's year-end lists of Best Episodes of Television of 2019.
Susan has edited six television pilots and helped launch eight shows in their first season.  In 2018, Susan was elected to the society of American Cinema Editors, and in 2019 she spearheaded 'Bumped Up: the Leadership Workshop for New Editors', a recurring event co-sponsored by ACE and the Editors Guild.  You can also find Susan on the golf course, at a sewing machine, or at karaoke singing "I'm On A Boat" by The Lonely Island.
The next installment of MEWShop's Six Week Intensive Workshop will be taught LIVE online beginning on May 2, 2022 and will be held Monday through Friday from 10 AM EST to 6 PM EST.  For more information on the Online Six Week Intensive Workshop or to register, please visit https://www.mewshop.com/six-week-intensive-online.  
​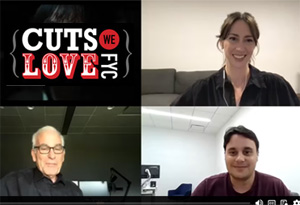 Cuts We Love: "Beef" EidtFest Sneak Peek interview by Michael Tronick, ACE, with editors of "Beef", Laura Zempel, ACE and Nat Fuller, Emmy nominees for their work on the season...
Explore Your Favorite Topics