In Memoriam – Mike Hill, ACE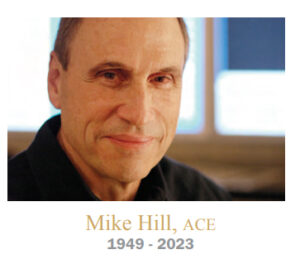 When Oscar-winning editor Mike Hill, ACE, died Jan. 5 at his home in Omaha, the A-list director to whom his career will forever be tied, Ron Howard, tweeted: "#RIP my friend Mike Hill. Man, I'm going to miss him."
In a prepared statement, Howard elaborated: "Mike was a remarkable and dedicated collaborator on our 22 movies but an even more valued friend. He was a gifted and lauded film editor … who lived his life with honesty, integrity and a great sense of irony and wicked humor."
Hill, 73, succumbed to a rare respiratory disorder. He partnered with Dan Hanley, ACE, in cutting all of Howard's films from Night Shift (1982) through In the Heart of the Sea (2015), a three decade-plus run that established the trio as one of Hollywood's most enduring creative teams.
Hill shared the Academy Award with Hanley for Apollo 13 and nominations for A Beautiful Mind, Cinderella Man and Frost/ Nixon. The duo collected three BAFTA nominations, winning for Howard's Rush (2013), and three ACE Eddie nominations. Howard's eclectic filmmaking choices gave Hill the opportunity to handle a breadth of genres, from fantasy (Splash) to sci-fi (Cocoon) to dramedies (Parenthood) to social drama (The Paper) to thrillers (The Da Vinci Code). He cut everything from NASA launches (Apollo 13) to Formula One racing (Rush). "We shared a creative appetite to not repeat ourselves, to face new challenges," Howard says.
Reflecting on his late wingman and the "amazing creative experiences and life experiences we all shared," Howard says, "Despite the dynamics and urgency of production, I feel like post production is probably the most sensitive, critical and emotionally vulnerable thing of the entire process. The intensity and focus can be kind of a gauntlet. Mike was just a great guy to be in the trenches with. And he was a great creative problem-solver with massive artistic range and perspective."
Howard valued the way Hill, Hanley and himself complemented each other. "I really felt Dan and Mike and I were ultimately in the cutting room finding the movie together – project in and project out. I always knew there was a creative dialogue and process underway that I didn't always bear witness to – that often went on before I was even seeing a cut of a scene or long after I'd given notes and suggestions and gone home for the night. I didn't delve too deeply into it."
It didn't take Howard long to discover just how seamless Hill-Hanley's work could be. "The third or fourth project we did together it dawned on me that if I didn't know who was taking a lead on a particular sequence, I wouldn't be able to guess. Not because of a lack of style on their part, or one copying the other. Rather, they, along with me, always aspired to find the voice, the feel, the rhythm appropriate for that film….They were in absolute alignment with me without having to talk a lot about it or negotiate.."
As much as Hill was part of an editing team, there were things that distinguished his work. "Mike was more intuitive where Dan was more methodical in terms of preplanning his attack on a scene," says Howard. "Mike had a very strong appreciation for action and suspense. Often Dan would encourage him to take those scenes that would play into those strengths or Mike would say, I want that one. It would be something that spoke to him in a way that we knew was going to be personal and creatively exciting."
Hill's penchant for innovation was evident during the Cinderella Man edit when a boxing scene fell flat until a series of nuanced cuts enlivened it. "We kept talking about this scene, but we didn't have any real ready solutions. One day I went and saw that it suddenly had much more dramatic impact.
The punches were landing harder, the intensity was greater. I assumed he shortened it. But what he did was take single frames from other moments, putting as many as seven little cuts into a single big punch. These micro cuts were virtually invisible to the eye. His edit played with the perception of the punches, using flashing lights and other subliminal ideas. It made it more psychological, jagged and intense without being overtly stylized. It was pretty remarkable."
Hill learned his craft at Paramount, being mentored by directing greats Elia Kazan (The Last Tycoon) and Hal Ashby (Bound for Glory) before veteran Bob Kern took Hill and Hanley under his wing. Reflecting on their collaboration, Howard admired Hill's humility and independence. "He was a very individualistic guy. He chose to live in Omaha, where he grew up, and a place he loved. He was a bachelor for a long time and when he fell, he fell hard and married once in his life and had a great marriage and a wonderful daughter.
"He had pride but didn't take much of anything too seriously except his family. I think it's important to know that despite a fantastic filmography he didn't eat, drink and sleep this business the way many of us do. He had a very strong work ethic but it was very professional and workaday, yet all fueled by talent, taste and intellect."
Survivors include Hill's wife, LeAnne, daughter Jesica and son-in-law Brandon. – LEO ADAM BIGA


Explore Your Favorite Topics