In Memoriam – George Ohanian, ACE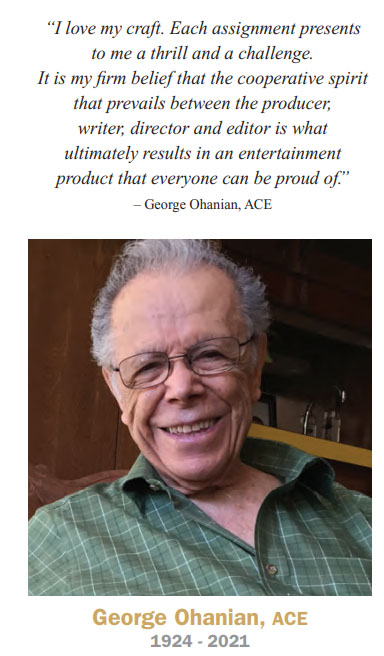 George Ohanian, ACE, passed away on April 20 in the comfort of his home in Glendale. He was 96. Born and raised in Hartford, Conn., Ohanian was a combat veteran of World War II and fought in the European Theatre and the pivotal Battle of the Bulge. After the war, he relocated to California and graduated from UCLA in 1952 with a Bachelor of Arts degree in English. During his last year of college, Ohanian began what would become a successful 38-year career in the entertainment industry when he was employed by Universal Studios as a helper in the Stills Department. He was soon promoted to printing publicity photos of the stars and then transferred to the Editorial Department in 1955 as an apprentice film editor. Enamored with editing, he worked his way up through the ranks and, in 1963, was promoted to film editor.
One of his first and favorite credits was as Lead Sound Effects Editor on Joe Connolly and Bob Mosher's television comedy The Munsters. Ohanian was also very proud to have worked, earlier on in his career, with Orson Welles as Dialogue Editor on the classic film, Touch of Evil. He found Welles to be every bit the genius that many claimed him to be and it was an experience he never forgot and often recounted.
Executive Producer/Writer Harve Bennett was another one of Ohanian's earlier mentors when he worked for him on The Six Million Dollar Man and The Bionic Woman. During his stint as Senior Film Editor on The Six Million Dollar Man, Ohanian wrote an article for CinemaEditor (Winter 1975/76) detailing both the editorial challenges he faced and the innovative techniques he employed while on the series.
Ohanian had many fond memories of working with Executive Producer/Writer/Director Ken Johnson on multiple series, including Cliffhangers, The Bionic Woman and The Incredible Hulk. The two became friends and stayed in touch for many years after. Ohanian also enjoyed working with Executive Producer/Writer/Director James D. Parriott on several projects, notably Parriott's time travel series
Voyagers! In later years, he worked for Executive Producers Dean Hargrove and Fred Silverman, editing a two-hour Perry Mason for them as well as the hit series Matlock.
Ohanian retired in 1989, but remained active as a member of ACE, Motion Picture Editors Guild, the Academy of Television Arts & Sciences, and the American Film Institute. In addition to being a lifelong fitness enthusiast, he enjoyed taking road trips, doing crossword puzzles, watching college football games (especially his Bruins) and visiting with his children and grandchildren. George Ohanian is survived by his beloved wife of 46 years, Eileen Stecyk Ohanian; three daughters, Heather (Scott) Whitbeck, Tamara (Josh) Harker, and Jennifer (Brian) Fink; five grandchildren Nicholas, Ashlyn and Lily Whitbeck, and Theodore and Felix Fink; and his sister Gladys (late George) Danielson.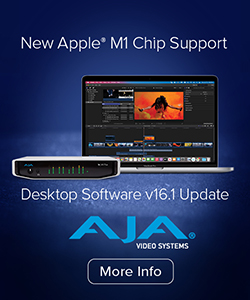 Explore Your Favorite Topics