In Memoriam – Rod Stephens, ACE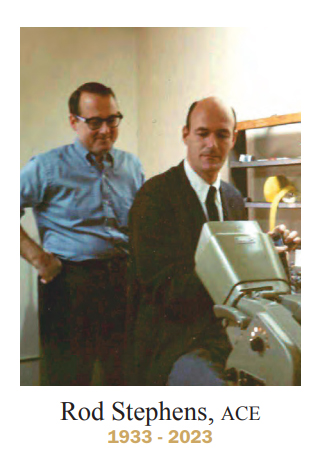 Rod Stephens, ACE, whose work included classic series including The Odd Couple, Happy Days and The Rockford Files, passed away on April 5 from end stage heart failure. He was 90.
Born on March 26, 1933, in Portland, Ore., Stephens grew up in Burbank; after this his father, who was working at the local airport, was transferred to Southern California. His career in film began in the mailroom at ABC, after attending college in Redlands studying music and theater and completing Army service in Texas. Stephens then moved into assisting. At MGM he assisted on Combat and at Desilu, The Danny Thomas Show.
In 1965 he met and married the love of his life, Shirley. She was an RN working for American Airlines. They started a family and have a son, James, and daughter, Alexandra. In his editing career, Stephens was mentored by both James Blakely and Tom McCarthy. His credits include such series as Stone, The Greatest American Hero, The Paper Chase and The Magical World of Disney. He also cut movies of the week and miniseries such as Mussolini: The Untold Story, Harold Robbins' 79 Park Avenue and The Rhinemann Exchange.
Stephens was a dedicated member of Motion Picture Editors Guild (Local 700). His last credit was 1994 TV movie The Journey. As he neared retirement age he went to Family Theater, a Catholic organization, and began archiving for them. Archiving can be done remotely, so he and Shirley moved to Redding, Calif., to be near their daughter and her two children. Their son moved to Portland to work in stop motion animation.
Stephens developed a heart condition while in Redding and he and Shirley moved to Portland where the weather was more temperate. In his life he took great pleasure in the creative work he did. Under the mentorship of Blakely and McCarthy he grew as an artist, and the shows he toiled on were made better with his work. He was an editor all the way, an artist and a storyteller.
He is survived by his wife, Shirley; his children, James and Alexandra; and two grandchildren, Grace and William. We will miss him. – JACK TUCKER, ACE
Explore Your Favorite Topics