In Memoriam – Dennis Virkler, ACE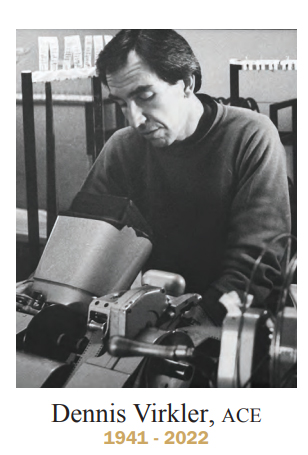 DENNIS VIRKLER, ACE
Two-time Oscar nominee Dennis Michael Virkler, ACE – known for such classics as The Fugitive, with its thrilling train wreck action sequence – died on Sept. 15. He was 80. "Dennis came in on a Saturday morning and blew us away Monday with a great cut for the opening of The Fugitive," remembers director Andrew Davis of the 1993 Best Picture Oscar nominated film, that starred Harrison Ford and Tommy Lee Jones.
Virkler was born on November 23, 1941 in Cleveland, before at age 4 his family relocated to Santa Monica. After serving a stretch in the Air Force he became a night guard at Fox Studios. This was followed by a stint as a Teamster delivering dailies before finding editorial where he assisted on a Bert Gordon horror movie.
This led him to Dark Shadows creator Dan Curtis, who made a series of TV movies of this genre. Virkler edited severalprojects for Curtis during the '70s, including The Picture of  Dorian Gray and Burnt Offerings. He was Curtis' associate producer on the ill-fated Supertrain TV series before moving on to Xanadu, Airplane II: The Sequel, Independence Day, Nobody's Fool and Distant Thunder.
Virkler received Oscar, Eddie and BAFTA nominations for The Fugitive and The Hunt for Red October, the 1990 film adaptation of Tom Clancy's submarine thriller, directed by John McTiernan starring Sean Connery and Alec Baldwin. Virkler went on to cut such features as Sharky's Machine and Gorky Park. "He was a storyteller," said his wife of nearly 40 years,
Helen Pollak. It was this talent that made his films so successful.
With his skill he elevated directors' work to the maximum. Later, Virkler edited such movies as Under Siege, Batman Forever, Batman & Robin, Collateral Damage, The Chronicles of Riddick and The Wolfman. All of these films share the imprint of his talent. His last film was 2017's The Ottoman Lieutenant.
Virkler was highly regarded and beloved by many of the people who worked with him. One former colleague described him as a brilliant editor with a tough, macho exterior, who was a creative genius, with a gentle and artistic soul.
He had been ill for some time before his passing at St. Joseph's ICU in Burbank, with his wife, Helen, and their son, Wilson, at his side. He is also survived by a granddaughter, Roo, and a brother and sister. Dennis Virkler will be greatly missed by the editing community to which he had given so much– JACK TUCKER, ACE
Explore Your Favorite Topics