Featured in Content:
Digigtal Film Tree | The Drop

Part Ken Burns documentary, part comedians in cars getting coffee, the drop @ dft will explore and unpack all things behind the curtain of bringing your favorite stories to the screen. Team digitalfilm tree will welcome guests from both our own in-house artists and the clients we serve to share with you the how, why, and wtf of storytelling.
Listen as creative technologists and technical creatives discuss the innovations behind the stories appearing in your hand or in your home. We're adding the Umbrella Academy Drop, then Lasso, then Lizzo, then 1 or 2 more before moving on to season 5 and "Fashionable Post"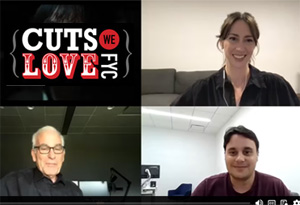 Cuts We Love: "Beef" EidtFest Sneak Peek interview by Michael Tronick, ACE, with editors of "Beef", Laura Zempel, ACE and Nat Fuller, Emmy nominees for their work on the season...
Explore Your Favorite Topics